Midnight Club: Street Racing Remake Edition is a upcoming Remake Version of Midnight Club: Street Racing, It is going to be developed and published by Peanuteegee. It is a fangame in the Midnight Club series.
Midnight Club Street Racing Remake Edition
Status
Restarting the development and improving the game.
Release date
TBA
Developers
Developed by: Peanuteegee
Publishers
Published by: TBA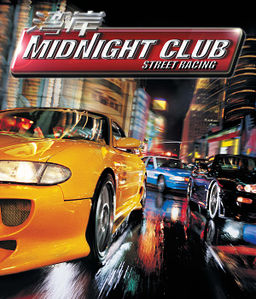 Objective 
A mysterious group of urban street racers known as the Midnight Club race for pride, power, and glory in sleekly customised, enhanced sports cars. As a regular New York City cab driver, the player learns about this secret club and decides to join.
The player begins with his relatively unmodified and slow vehicle, a taxi. Through a series of races, each with different goals, they defeat other racers and win faster and more expensive vehicles.

You begin your career by chasing a racer named Emilo Sanchez. As you continue to follow Emilo Sanchez, the first race starts from the World Trade Center and ends at Central Park. After you win the race, your now a part of the Midnight Club and Emilo Sanchez tells you to continue to race him. When you finish the second race, you will unlock the Crusero Bueno. When the player decides to change vehicles or continue career, the game will introduce 3 other racers and you must follow these hookmen to the starting line and win their cars. Depending who you choose to race, you will unlock the following vehicles: Crusero Excellente(complete 2 races), Crusero Magnifico(complete 2 races), Jones 400(complete 2 races), Jones 420(complete 2 races), Jones 450(complete 2 races), Pirahna PDQ(complete 2 races), Pirahna PDQ I(complete 2 races) and Pirahna PDQ ARi(complete 2 races). After you have beat all the racers, you can now beat Kareem Windross, the city champ. After beating Kareem Windross and his PT Phoenix, the player now travel to London and continue to challege Kareen Windross and 4 new racers. The game's cities are known for their gravity-defying jumps and shortcuts. Like any other racing games, when the player is racing in the rain, it can make the player very difficult to handle any fast vehicles since the streets are slippery especially when the player drifts around street corners and when racing in the fog it is hard to see where you're going and don't notice incoming traffic and police.
Opponents
Owleegee
Owlalleo
Owlmee
Gophereegee
Gopheralleo
Gophermee
Rabbiteegee
Rabbitalleo
Rabbitmee
Tiggereegee
Tiggeralleo
Tiggermee
Rooeegee
Rooalleo
Roomee
Kangaeegee
Kangalleo
Kangamee
Eeyoremee
Kessiemee
Kessiealleo
Kessieegee
Pigleteegee
Pigletalleo
Pigletmee
Poohmee
Pooheegee
Poohalleo
Horaceegee
Horacealleo
Horacemee
Clarabellemee
Clarabellealleo
Clarabelleegee
Peteegee
Petealleo
Petemee
Max Goofeegee
Max Goofalleo
Max Goofmee
Goofymee
Goofyalleo
Goofyeegee
Daisymee
Daisyalleo
Daisyeegee
Hueyeegee
Hueyalleo
Hueymee
Deweyeegee
Deweyalleo
Deweymee
Louiemee
Louiealleo
Louieegee
Donaldmee
Donaldalleo
Donaldeegee
Milliemee
Milliealleo
Millieegee
Melodymee
Melodyalleo
Melodyeegee
Minnieemee
Minniealleo
Minnieegee
Ortensiamee
Ortensialleo
Ortensiaeegee
Oswaldeemee
Oswaldalleo
Oswaldeegee
Mickeemee
Mickeealleo
Mickeegee
Mrs Muskreemee
Mrs Muskralleo
Mrs Muskreegee
Mr Muskralleo
Mr Muskreemee
Mr Muskreegee
Dorismee
Dorisalleo
Doriseegee
Wallymee
Wallyalleo
Wallyeegee
Tim the Ice Weegee
Tim the Ice Malleo
Tim the Ice Meegee
Simonmee
Simonalleo
Simoneegee
Conniealleo
Conniemee
Connieegee
Cap'nmee
Cap'nalleo
Cap'ngee
Mr.Bigalleo
Mr.Bigmee
Me.Bigee
Geroginamee
Geroginalleo
Geroginaeegee
Edouardeemee
Edouardalleo
Edouardeegee
Boostiemee
Boostiealleo
Boostieegee
Ostieemee
Ostiealleo
Ostieegee
Shirleyalleo
Shirleymee
Shirleyeegee
Billyeegee
Billyalleo
Billymee
Flickmee
Flickalleo
Flickeegee
Betty Loualleo
Betty Loumee
Betty Lougee
Munchyalleo
Muchymee
Munchyeegee
Walteralleo
Waltermee
Waltereegee
Wandalleo
Wandaeemee
Wandaeegee
Rickeemee
Rickyalleo
Rickeegee
Scootchmee
Scootchalleo
Scootcheegee
Pinchmee
Pinchalleo
Pincheegee
Redolfomee
Redolfoalleo
Redolfoeegee
Annamee
Annalleo
Annaeegee
Ernestmee
Ernestalleo
Ernesteegee
Opaleemee
Opalalleo
Opaleegee
Franmee
Franalleo
Franeegee
Ms.Ferneegee
Ms.Fernalleo
Ms.Fernmee
Grandmamaeegee
Grandmamalleo
Grandmamee
Wikieegee
Wikialleo
Wikimee
Tinieegee
Tinialleo
Tinimee
Masieegee
Masiealleo
Masiemee
Kipeegee
Kipalleo
Kipmee
Funkyeegee
Funkyalleo
Funkymee
Twinkleegee
Twinklealleo
Twinklemee
Spunkyeegee
Spunkyalleo
Spunkymee
Wayneegee
Waynealleo
Waynemee
Kacieegee
Kaciealleo
Kaciemee
Jaxeegee
Jaxalleo
Jaxmee
Grandpop Crinkeegee
Grandpop Crinkalleo
Grandpop Crinkmee
Zootereegee
Zooteralleo
Zootermee
Mellieemee
Melliealleo
Mellieegee
Rosyeegee
Rosyalleo
Rosymee
Eubieegee
Eubiealleo
Eubiemee
Jellyeegee
Jellyalleo
Jellymee
Buttereegee
Butteralleo
Buttermee
Barbereegee
Mrs.Barbereegee
Lribarbergee
Franbee
Mr.Electrician
Ms. Fern
Grandpa
Grandmama
Fripp
Kip's mother
Wiki
Tini
Masie
Wayne and Twinkle's mother
Punky
Mucky
Pokey
Mocky
Winky
Funky
Spunky
Barber
Mrs. Barber
Peanutmee
Penautalleo
Peanuteegee (City Champ)
Kacie
Jax
Grandpop Crink
Lilu
Uncle Zooter (Eubie's Uncle)
Aunt Mellie (Eubie's Aunt)
Rosy (World Champ)
Eubie (World Champ)
Pookie (avaliable in Arcade Mode races and is the sister of Kip and Masie)
Pizza Guy (avaliable in Arcade Mode races)
Mesaleseegee (available in Arcade Mode races)
Mesalesalleo (available in Arcade Mode races)
Measlesmee (available in Arcade Mode races)
Spoteegee (available in Arcade Mode races)
Spotalleo (available in Arcade Mode races)
Spotmee (available in Arcade Mode races)
Plutoeegee (available in Arcade Mode races)
Plutoalleo (available in Arcade Mode races)
Plutomee (available in Arcade Mode races)
Eubie Jr (available in Arcade Mode races)
Rosy Jr (avaliable in Arcade Mode races)
Baby Eubie (avaliable in Arcade Mode races)
Baby Rosy (available in Arcade Mode races)
Wayne Jr (available in Arcade Mode races)
Baby Wayne (available in Arcade Mode races) 
Vehicles
Taxi Cabs
Taxi
Super Taxi
Maurader
Taxi (No Graffiti)
Taxi (Non Playable Traffic Version)
Mickeegee Taxi
Pooheegee Taxi
Peanuteegee Taxi
Eubie Taxi
Eubieegee Taxi
Crusero
Bueno
Bueno (No Markings)
Bueno II
Bueno III
Bueno IV
Bueno V
Bueno VI
Bueno VII
Bueno VIII
Bueno IX
Bueno X
Bueno XI
Bueno XII
Bueno XIII
Bueno XIV
Bueno XV
Bueno XVI
Bueno XVII
Bueno XVIII
Bueno XIX
Bueno XX
Bueno XXI
Bueno XXII
Bueno XXIII
Bueno XXIV
Bueno XXV
Excellente
Excellente II
Excellente III
Excellente IV
Excellente V
Excellente VI
Excellente VII
Excellente VIII
Excellente IX
Excellente X
Excellente XI
Excellente XII
Excellente XIII
Excellente XIV
Excellente XV
Excellente XVI
Excellente XVII
Excellente XVIII
Excellente XIX
Excellente XX
Excellente XXI
Excellente XXII
Excellente XXIII
Excellente XXV
Jones
J400
J400 (No Markings)
J420
J420 (No Markings)
J450
J450 (No Markings)
Piranha
PDQ
PDQ (No Markings) 
PDQ II
PDQR
PDQR (No Markings)
PDQR II
PDQ ARi
PDQ ARi (No Markings)
PDQ ARi II
PT
Phoenix (Standard)
Phoenix II
Phoenix III
Phoenix DDX
Phoenix DDX II
Phoenix ICS
Phoenix ICS II
Modicum
Ascent
Amata
Zender
Alpha
Alpha ? (Eubie's 1st Vehicle)
Beta
Type-S
Type-S ? (Masie's 4th Vehicle)
Type-S ? (Kip's 4th Vehicle)
Type-S ? (Kacie's 3rd Vehicle)
Type-S ? (Jax's 3rd Vehicle)
Type-S ? (Eubie's 3rd Vehicle)
Delta (Eubie's 4th Vehicle)
Delta II (Rosy's 4th Vehicle)
Theta (Eubie's 5th Vehicle)
Theta II (Rosy's 5th Vehicle)
Kuruma
Manhattan Bonus
London Bonus
Manhattan PD
London PD
Smuggler's Run 1
Baja Buggy
The Forgotten Buggy
A380's Buggy
O'Grady's Buggy
Sierra Cartel Buggy
The Quebois Buggy
Border Patrol Buggy
CIA Buggy
Army Buggy
The Forgotten S.U.V.
A380 SUV
O'Grady's SUV
Custom Smuggler's Run 1
Multiplayer
Multiplayer modes such as Arcade Mode and Online Mode using two to four additional Xbox One controllers as well as 32 players.
Gallery